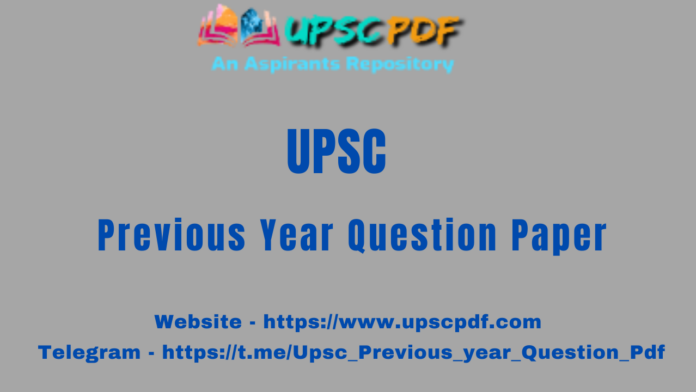 UPSC Mains Question Papers 2023
The UPSC Mains 2023 commenced on 15th September 2023 with the Essay Paper. The IAS Mains 2023 will conclude on 24th September 2023 with the optional papers. The UPSC Mains is the second step in the entire civil services exam process. Candidates who clear the mains exam will be called for the final leg of the exam, that is, the UPSC Personality Test or interview which will be held in January – March 2024.
The UPSC mains exam consists of nine papers namely, the Essay Paper, four General Studies papers (GS-1, 2, 3 & 4), two optional papers, the English language paper and one Indian language paper. In the below table, we give you the schedule of the UPSC Mains 2023 exam.
Date
Forenoon Session

(9.00 A.M. to 12.00 Noon)

Afternoon Session

(2.00 P.M. to 5.00 P.M.)

15 Sep 2023 (Friday)
Essay Paper
No Paper
16 Sep 2023 (Saturday)
GS-1
GS-2
17 Sep 2023 (Sunday)
GS-3
GS-4
23 Sep 2023 (Saturday)
Indian Language
English
24 Sep 2023 (Sunday)
Optional Paper 1
Optional Paper 2
The English and the language papers are of a qualifying nature while the remaining papers are counted for merit ranking.
Note – The exams are yet to take place. The PDFs will be available shortly.
UPSC Mains Language Question Papers 2023
Though the language papers are of a qualifying nature, they are important because the candidate has to clear these papers with the minimum marks if they want to clear the IAS mains exam. There is a list of languages the candidates can choose from for the compulsory Indian language paper.The Indian language paper is called Paper A while the English language paper is called Paper B. Candidates can download the language papers from the table below. (Links will be provided once the papers are out).

UPSC Mains 2023 Indian Language Question Paper
UPSC Mains 2023 English Language Question Paper
UPSC Mains Essay Question Paper PDF
The UPSC Essay paper segment consists of two sections A and B.
Both sections have about four questions each.
The candidates have to choose one topic from each section, thus having to answer 2 essay questions in total.
The word limit for each question is to be within the range of 1000-1200 words.
The marks for each question is 125, thus the total allotted marks are 250.
The paper will be included for merit ranking and is not just for qualifying purposes.
The candidates are expected to keep close to the subject of the essay to arrange their ideas in an orderly fashion and to write concisely.