Best Mobile App for UPSC Preparation
In today's world of the internet and mobile apps,

UPSC Preparation

can literally be in your pocket. While an app may not be all you need to prepare for the UPSC, it can definitely make your preparation smart, easy and effective just because of its accessibility. The fact that now you can take your preparation with you and keep preparing even in traffic and long commutes is definitely a huge plus and makes using apps an extremely smart decision to take,
Let us then take a look at the top apps available for preparing for UPSC Exams.

UPSC Pathshala app is one of the best apps that help prepare aspirants for each level of the UPSC Exams.
The app has a dedicated chat bot that answers your questions around the UPSC preparation. This ensures that you are answered as soon as a question pops up in your head.
The app is divided into a few sections like "Free Videos", "Preparation Plans", "Quizzes" "UPSC Guru" and "Scholarship".
While a few sections of the app are only available to the paid members, the "Free Videos" section lets you take a look at the videos and decide about paying for the app.
The Preparation Plans section let's you choose your UPSC preparation plan, and through the Scholarship section apply for scholarship in the app.
The app will track the modules, quizzes and mocks, and your classes have been completed, the ones still pending and whether or not your preparation is on schedule.
Features:
Free videos

Preparation Plans

Quizzes

UPSC Guru

Scholarship
Exam for which students can use UPSC Pathshala app:
UPSC Prelims

UPSC Mains

UPSC Interview
Download for Android

– Click here
---
---
Considered to be one the leading available Mobile Apps providing content for current affairs for UPSC IAS Exam, the Vision IAS App helps aspirants join the ranks of offices in the IAS (Indian Administrative Service), IPS (Indian Police Service), IFS (Indian Foreign Service) and other government services like Indian Forest Service (IFoS).
Vision IAS App Features:

Classroom – to watch live streaming or video of classroom sessions
Talk to Expert – to clear doubts and ask questions
Prelims Test – Test the level of your preparation with Open Mock Tests and Old UPSC Prelims Papers. 
Mains Tests – Tests can be taken at home and the answer sheets uploaded through the app for checking and discussion which remain available on the app. 
Access to Vision IAS magazine in English and Hindia
Listen to All India Radio (AIR) – Daily AIR episodes, including the programs Spotlight, Money Talk and Vaad Samvaad.
View Toppers' Answer Copy of toppers in the first 100 ranks.
Read Value added material – supplementary material for preparing for the UPSC Exam
Watch Talks and Interviews – engaging talks and discussions with toppers and Vision IAS faculty around important topics.
View Infographics – provides infographics on latest topics that work like a quick set of notes.
Live Chat – provides immediate and instant replies to queries.
Download for Android

– Click here
Download for Apple

– Click here
---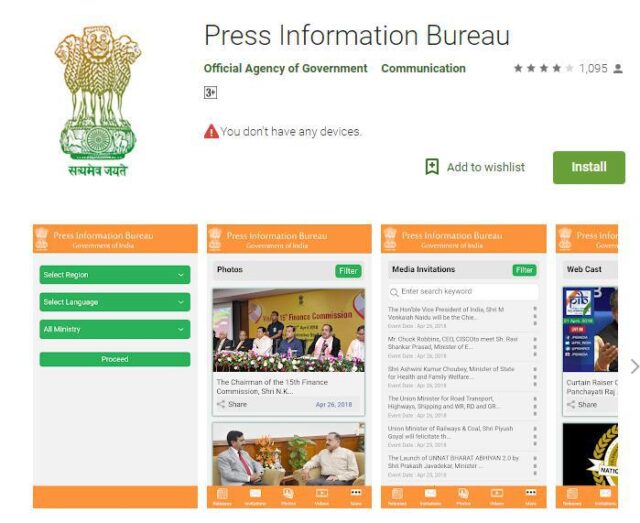 PIB is the Nodal agency for Government of India for Communication and Dissemination of Information about the programs, policies, schemes and achievements of the government through all means including Press, Electronic Media and social media with a view to inform and empower people.
This app content following features.
1. Press Releases Highlights.
2. Media Invitations
3. Photos
4. Videos
5. Announcements
6. Events
App is also offers to share it content to Social Media. You can mark it Feature to Read it later.
Download for Android

– Click here
Download for Apple

– Click here
All PDF which are provided here are for Education purposes only. Please utilize them for building your knowledge and don't make them Commercial. We request you to respect our Hard Work. We are Providing Everything Free Here.

UPSCPDF.com

Will Not Charge Any Cost For Any Service Here.
If you are new to UPSC field, We recommend you to know about

 UPSC Prelims 

and 

UPSC Mains 

and

 UPSC Optionals 

and

Test Series [Prelims/Mains]

and also

Magazine 

for better Understanding. All our Advertisements are Decent ads [we don't compromise in the Quality] and if anyone have any problem with website or advertisements please contact me

 

[email protected]
UPSCPDF.com

does not own this book, neither created nor scanned. we just providing the links already available on Internet. if any way it violates the law or has any issues then kindly contact us. Thank you.